There is a "disproportionate number of law and order and incidents" in Little India and Geylang associated with liquor consumption according to a police operational assessment.
"The regular and large congregations of people, both local and foreign in these area exacerbate the risk," said home minister Mr S Iswaran.
Mr Iswaran also explained that this is why Little India and Geylang will have stricter restrictions on the hours for the supply and consumption of liquor if the Liquor Control (Supply and Consumption) Bill is passed.
The Bill also proposed that any drunken individual who is incapable of taking care of himself or herself in any public place will be guilty of an offence and may be fined up to $1000 or imprisoned up to one month.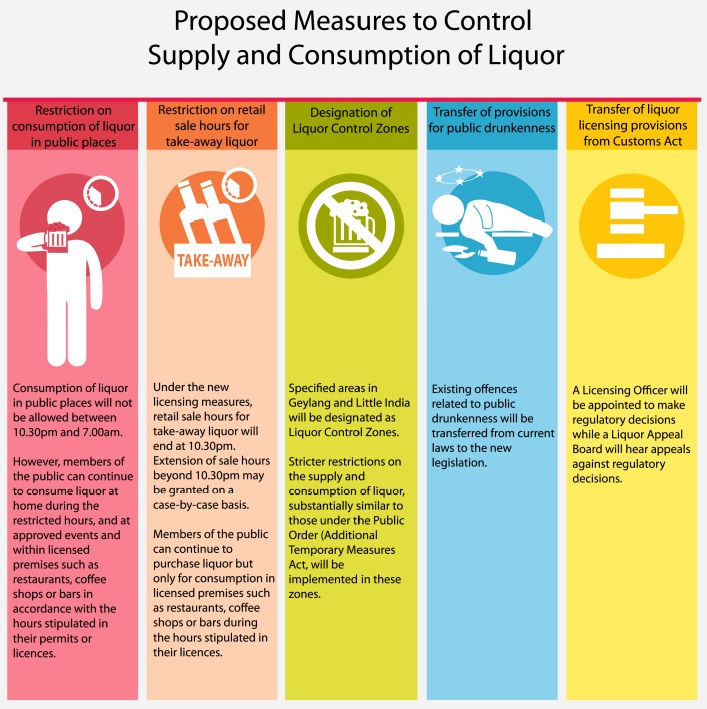 GEYLANG…. a place that every singaporean, foreign workers and even tourists will know, and will always associate it with illegal activities such as gangsterism, black market gambling and selling medication, pimping and sex work. As a woman, I have always been a regular patron at Geylang. Taking the cab late night and instruct the taxi driver to send me to geylang, I rarely come across a taxi driver who warns or asks questions with regards to the safety for women like me to hang at Geylang lor. Once in a blue moon, an uncle will ask me "You go Geylang safe a not for a woman to stand at Geylang??" but I will confidently answer that for as long I can remember, Geylang has and will always be a safe place for a women like me to patronize. Sure enough, at times I have encountered people who misbehave themselves or create nuisance out of themselves. Becoming too rowdy with their drunkard behaviour, from the pimps or the gangsters who hang around there at times whom are trying to show their authority to women who will stand at their so called protector place by asking for the protection money. Some of them will harass the women who will stand there, but their target will only be for women who are a newbies who are not familiar with the game of surviving through the lies and deception of the men who take advantage of the weaker women who work there as a sex-worker. But thanks to the Singapore Police Force and MP Fatima Lateef who have taken steps on making a 'Red Light District' area to be able to roam and cruise freely with no worries or any intimidation. Nowadays going around Geylang you can't stop yourself from noticing there's a lot of surveillance camera and brightly lit lanes compared to year of say 2007. And the diligence of the Singapore Police Force doing their regular patrolling either through cars or walking the whole stretch of Geylang.
With the new Bill that will be imposed in April 2015 that any open space in Geylang and the restriction of purchasing alcohol after ten thirty p.m on any convenience shop at Geylang, only food court or food stall premises are allowed to sell and customer to drink at the premise after ten thirty p.m but that too have to be licensed by the police and they will monitor the movement or any fight that breaks out due to the heavy consumption of alcohol by the customer. With already so much of involvement from the Singapore Police Force and the Government in Geylang, adding the new Bills i think is not welcoming or agreeable legislature that any regular drinker in singapore will agree to it.
If you had drop by at Geylang lorong, you will tend to notice that many foreign worker who reside there will love to have a mini gathering with their friends on any open space pavement with liquor or beer around them. They do this normally after their hard day at work or on their rest day just to be able to chill with their smart phone or sharing their daily activity to each other. As one of them shared with me, majority of them are not allowed to drink in the compound where they stay. He also shared that it is cheaper to buy from the convenience shop as compared to drinking at the coffeeshop. With the ruling of not to be able to purchase liquor or beer after ten thirty p.m or even bringing any can or bottles of liquor or beer around Geylang, it seems like their only limited amount of personal entertainment and leisure has been stripped from them. This foreign worker also shared with me that if the ban is imposed, he and his friends will have no choice but to drink at the toilet.
One of the regular drinkers in Geylang shared with me that he feels it is not fair just because of a minority of drinkers who had created nuisance and are not being responsible with their own actions, the other drinkers who know their limit of consumption have to be labelled and endure the unhappiness of the ruling in silence. He also stated that any Singaporean who is a regular drinker is surely a hard working citizen just like the foreign workers.It is their hard earned sweat money and they feel it is their right to decide how they spend their money. The ruling will not only affect the regular drinkers but also the convenient shops that sell liquor and beer.They too will feel the lower revenue of income due to the less hours that their are able to sell their product  to the customer who will purchase their liquor and beer after their working hours which usually evening to late night.
For sex workers and the legal brothels who operates there will feel the loss as normally the men who see them will be slightly buzzed but not too drunk so they could be able to see the sex worker. As some men who drink alcohol just to allowed them to hide their shy feelings and allow them to have another boost system that make them relaxed after a stressful event in their life and allow them to satisfy their desires, especially since they are all alone working in this country.
This case is another example of why we find that Singaporeans don't have any kind of human rights to be heard of or voice our disagreement to any rulings that are going to be imposed to the Singapore people. It does make sense when other parts of the world see Singapore and label it as "Singapore Inc"–where the country appears to be run more like a corporation than a nation that listens.
—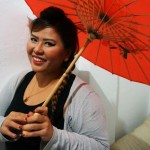 Lisa is the Associate Program Coordinator here at Project X since January 2015. She has been involved in what she loves to describe as 'A Professional Entertainer' for seven years. Through her line of work, she has had the opportunity to meet many different people and thus allow her a wider knowledge of different perceptions of life.